Sara Rossling
---
---
Jacquelyn Davis
---
Anna Sabrina Schmid
---
Camilla Larsson
---
PRESS
Konst som en gemensam upplevelse

interview by Mathias Jansson, in Konstperspektiv (1-2023)
---
Lek och lärdomar på Gustavsbergs Konsthall



Interview

by Veronika Muráriková for Current Obsession Magazine
---
Siri Mayer on the exhibition
Invitert N˚3 Åsa Cederqvist & Hanne Friis
for Kunstavisen.no (2020)
"I «Mama Dada Gaga» er hele universet en sydende smeltedigel av skapelse og destruksjon, hvor ingenting har en fast identitet, men alt er underveis, på vei mot noe annet. Cederqvist er ikke opptatt av hva kvinnen er, men av hva hun kan bli. Vi kan kalle det for kvinnelige «tilblivelser», for å låne et begrep fra filosofen Gilles Deleuze."
---
Anna Tyrdahl for
Subjekt
on
Mama Dada Gaga
in Momentum 10 (2019):
"En av skattene i Momentum Kunsthall er Åsa Cederqvists rørende video «Mama Dada Gaga». På en tv-skjerm som stiger opp fra en sandhaug midt på gulvet, spiller den 33 minutter lange videoen med kunstneren selv, i en slags absurd «Ryan Trecartin-verden» med sin datter og sin mor.

Mens de tre damene danser på en gressplen i like silikondrakter, kan man ikke unngå å tenke over livet. Barnet, den voksne kvinnen og den eldre kvinnen. Hun som fødte henne som fødte henne. Sammen sminker de seg, leker en lek hvor de føder barn etter tur, diskuterer livets begivenheter og spiller hverandre på gestaltpsykologisk vis.

Cederqvist har laget en dyptdykkende, vakker video om morskap. Feminismens selvpålagte oppgave har lenge vært å skrive den kvinnelige erfaring inn i høykunsten. Cederqvist gjør det.

Det skal sies at videoen er en del av en stor installasjon som okkuperer halve salen i andre etasje på Momentum Kunsthall, men disse oppleves mer som kulisser for filmen. Det er ikke noe i veien med det. Å se på videoen omkranset av dette underlige objekt-miljøet tillater at man kan absorberes i Cederqvists univers."

---
Sinziana Ravini for
Kunstkritikk
on
Mama Dada Gaga
in Momentum 10 (2019)
---
Andreas Schlaeger review for Flash Art on Momentum 10 (2019):
"..
it is the large video installation Mama-Dada-Gaga (2018) by Swedish artist Åsa Cederqvist that most preoccupies me in this show. The artist, her mother, and her daughter perform each other, constantly switching their roles, in both realist and fantastical settings and with props that include a soft version of Munch's famous scream. Hilarity ensues, yet her reflections on notions of performance, expectation, vulnerability, and becoming are not only sincere but moving. "

---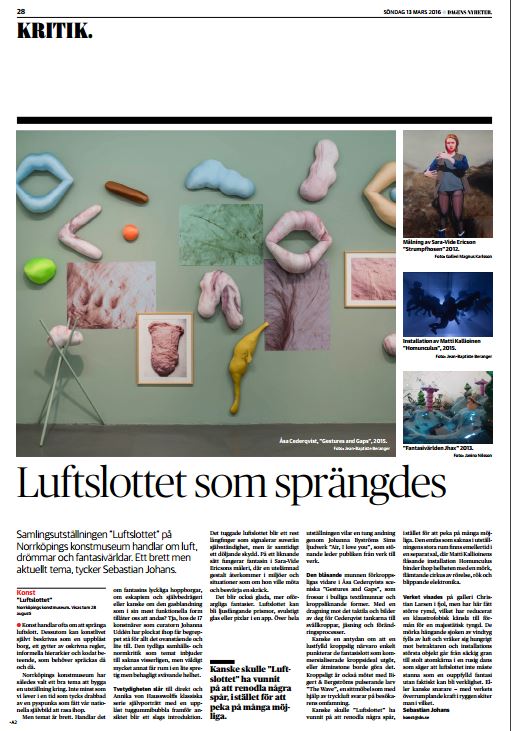 and more..